Bethica Das, who lives in Sharjah, presents an innovative recipe.
Rajma Keema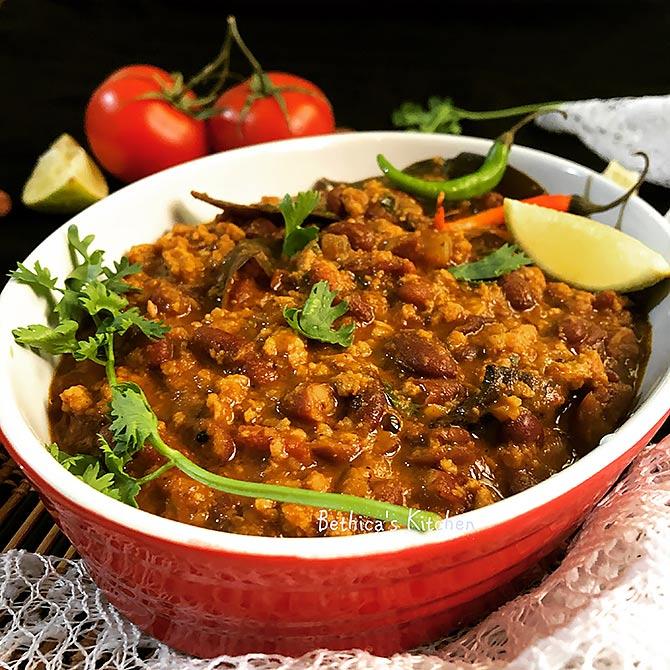 Ever thought of having rajma with meat?
Rajma Keema is a non-vegetarian version that is just as yummy, with a blend of various spices.
I also add some almond paste for a little bit of richness.
You can relish with hot steamed rice, plain biryani, jeera rice, pulao, naan, tandoori roti, paratha, poori or just plain chapatti.
It also goes well with appam or dosa.
The Recipe:
Ingredients
200 gm mutton or chicken keema mince, washed and drained
1 cup rajma, soaked overnight
2-3 tbsp. oil
1″ cinnamon stick
2-3 green cardamom
4-5 cloves
1 tsp cumin seeds
1-2 bay leaves
1 onion, chopped
1 tomato, chopped
1 tsp ginger-garlic paste
1-2 tbsp almond paste
1/2 tsp turmeric powder
1 tbsp red chili powder
1 tsp garam masala powder
1 tbsp coriander-cumin powder
Salt to taste
1 tsp ghee
1 tbsp coriander leaves, chopped
Method
Pressure cook the soaked rajma with 2 cups of water till it turns soft, but not too mushy. Keep aside.
In a bowl, mix together ginger-garlic-paste, almond paste and all the dry spices with some water and keep aside.
Heat oil in a pan and temper with cinnamon, cardamom, cloves, bay leaves and cumin seeds.
Add onions and saute till light brown.
Add tomatoes and continue to stir fry till it is mashed well.
Add spice paste and mix well. Cover and simmer till oil separates.
Add keema and give it a stir.
Saute on low flame till all the moisture has evaporated.
Add boiled rajma and mix everything well.
Cover and simmer on a low flame till it slightly thickens to a desired consistency. Mash with a potato masher if you wish.
When done, switch off the flame and add ghee.
Give it a stir and garnish with chopped coriander leaves.
Serve hot.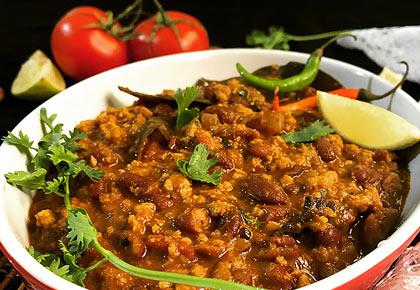 Would you like to share an interesting recipe or cooking video?
Please do send your recipe/video to us at [email protected] (Subject: My Recipe) along with your name, location and, of course, the recipe.
Source: Read Full Article