'It needs effort and commitment; romance is like air, easily felt and accessible,' model Zander Lama tells Rajesh Karkera/Rediff.com.
My first crush — more admiration, actually — would be my librarian from my student days.
She was eloquent as an individual and she dressed just as eloquently.
I can't speak for others but this wasn't your typical Bollywood or Hollywood romance that oh! I can't live without her. It was more like respect and admiration for who she was as an individual.
She unintentionally inspired me to read because the 30 minutes I spent in the library was my only opportunity to bask in her intellectual presence.
So, yes, she has been a positive influence. Today, if I love to read and I am curious to learn more in life, it is all thanks to her.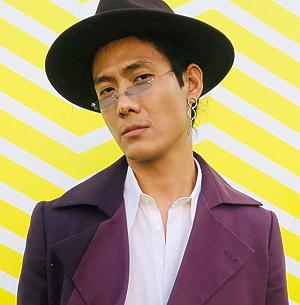 If you ask me to define romance and love, I would say love is like a mountain — it needs effort and commitment; romance is like air, easily felt and accessible.
I am no life coach or a love expert but I believe that, to keep the romance alive in a relationship, it is important to understand one another. At the same time, it is important to not expect the other person to complete you.
You can't have a healthy relationship unless you are sure and secure about who you are as an individual.
Whether you are single or in a relationship — be it friendship or love — learn to take care of yourself first. It is only when you truly love and take care of yourself that you will be able to love someone else.
And if you are someone recovering from a heartbreak, remember it is okay to hurt. It will take time, but you will be alright!
Lastly, love is patient, so don't rush it.
Just because everyone around you has a relationship, don't forget to focus on loving yourself and your dreams — whether it's the career you want or, most importantly, the life you want.
The right person will come meet you there when the time is right.
So, this Valentine's Day, I urge you to give yourself the gift of 'self-love'.
'Being a male model in India is not easy'
Get your fill of Valentine's Day HERE!
Source: Read Full Article