Kylie Jenner's three-year-old daughter may be the next Kar-Jenner billionaire, as she's coming after her mother's throne in the beauty world!
The reality star's daughter, Stormi Webster — whom she shares with on-again, off-again boyfriend rapper Travis Scott – is slowly creeping into the family business … and we're not talking reality shows. "I'm raising her to be smart and kind and driven," Kylie said to Tmrw magazine (via Buzzfeed). "Stormi is my legacy. Maybe she will take over Kylie Cosmetics one day?" That day is seemingly sooner than we all expected.
As fans await the star's new and improved Kylie Cosmetics line after Kylie announced she would be relaunching her iconic brand with clean and vegan products, the reality star is doing what she does best and letting fans in on the ins and outs of her life and company. In her YouTube series, "Inside Kylie Cosmetics" the beauty mogul opened up about motherhood, and what having her daughter Stormi in the office day to day means for the future of the company.
Stormi has her own office and is launching a 'little secret brand' soon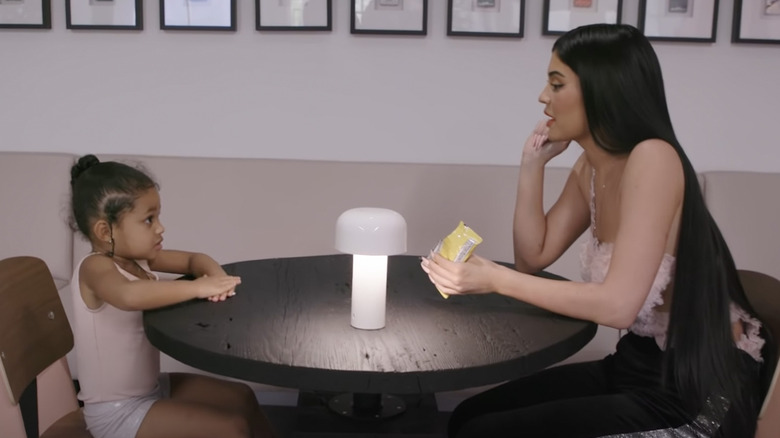 Kylie Jenner just might be the best example of the benefit of working with family, as the youngest Kardashian sister became the first in the family to hit billionaire status, per Insider. "You are a product of who you surround yourself with," Kylie said in her YouTube series, "Inside Kylie Cosmetics." "My sisters and my mom have been huge influences to me … Stormi has such strong women — and men — in her life, but she has a lot of strong women to look up to." 
Speaking of which, at the Kylie Cosmetics' offices, three-year-old Stormi Webster is surrounded by more than just her famous aunts. She skips around their Los Angeles, Calif. workspace daily, getting to watch her mom work with fashion execs. "She has her own office where she gets all her business done," Kylie said on Youtube, revealing the tiny tot is "working on her own brand." The celeb continued, "she's actually launching a little secret brand soon … we've been working on it for a while, but finally, it's pedal to the metal."
The celebrity tot surprisingly comes with some experience, as Stormi has collaborated with her mother before on Kylie Cosmetics' Stormi collection. However, fans are wondering if Stormi's "little secret brand" has anything to do with the mysterious @kyliebaby Instagram account that Kylie created in June. Regardless, one thing is for sure, Stormi has a bright and lip-kit-filled future! 
Source: Read Full Article