The entire Kardashian-Jenner clan looked totally flawless attending Kylie Jenner's 21st birthday party. But it was Kourtney Kardashian's outfit that stood out to Kylie when she decided to lurk in her sister's Instagram comments.
To recap, in one of the most recent trailers for the new season of Keeping Up with the Kardashians, Kim and Kourtney got into an argument because Kourtney announced that she needed to leave a family photoshoot early. Unhappy with her sister's apparent lack of commitment to creating the all important family holiday card, Kim lashed out saying, "I need Kourtney to not be so f*cking annoying with this stick up her ass like she f*cking runs this sh*t because she doesn't," finishing off with the iconic sentence, "She's the least exciting to look at."
Now, in reference to Kourtney's jaw-dropping party outfit, which didn't leave a lot to the imagination, Kylie decided to shade Kim's insult in the greatest way. Taking to Kourtney's Instagram comments, Kylie wrote, "you're so interesting to look at," directly referencing Kim's awful, and blatantly untrue, phrase.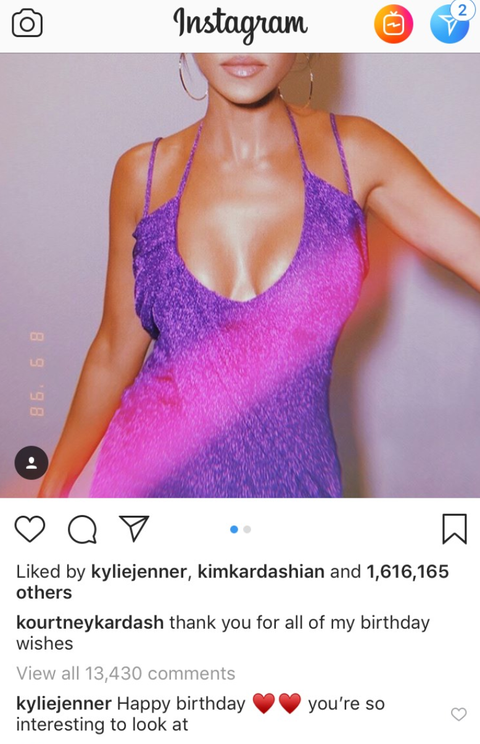 Clearly, as her incredible dress from La Perla's Pre-Fall 2018 Collection demonstrated, Kourtney is killing it right now:
thank you for all of my birthday wishes
A post shared by Kourtney Kardashian (@kourtneykardash) on
This week it was reported that Kourtney had broken up with her boyfriend of 18 months, Younes Bendjima. And when photos surfaced of Bendjima in Mexico with another woman, the Kardashians came to Kourtney's defense on Instagram. While Bendjima tried to claim that the other woman was just a friend, Kim and Khloé threw some public shade to suggest otherwise. Family forever.
Source: Read Full Article