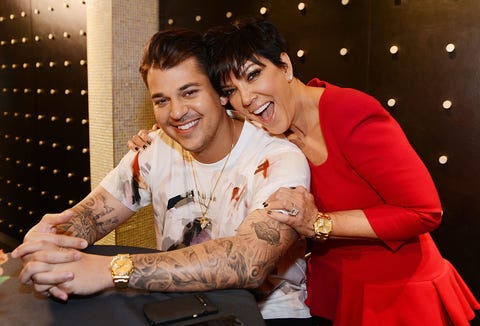 Rob Kardashian has been keeping a low profile, while the rest of us are keeping up with his famous family. But the lone Kardashian brother may soon return to television, according to his mom Kris Jenner.
"I think we'll probably see Rob more in [season] 16 than in 15," Jenner told Us Weekly. "We actually start shooting season 16 in a month, if you can believe that."
The last time viewers saw Rob on the small screen he was getting into explosive fights with his baby's mother, Blac Chyna, on their own E! reality show, Rob & Chyna. Remember this meme-worthy moment?
But things have since cooled down between the couple (in the public eye, at least) after a Los Angeles judge granted Chyna a temporary restraining order against Rob following a court hearing in July 2017.
Despite the drama, Jenner reassures fans that Rob is staying busy by working on himself and his health. "Rob is good. He's doing better and better," Jenner told Us Weekly. "He's working on his health and learning more and more about what it's like to live with kind of the leftovers of the diabetes that he struggles with from time to time, and working on his, you know, just your nutrition and your health."
Rob became reclusive over the years after the 31-year-old gained over 100 pounds in one year and tipped the scales at around 300 pounds. He was also diagnosed with Type 2 diabetes, but later declared he might have been cured.
"I think he's getting better at understanding how that all works, like I do every day, by the way," Jenner said. "I've been reading so much about nutrition and health. I feel like our body is just one big scientific experiment."
Rob has not shared any recent photos of himself lately, but the proud dad continues to give fans updates of his growing toddler, Dream, on social media instead.
?????? pic.twitter.com/vuy7jugmg8
Awww..we'll take it.
Source: Read Full Article