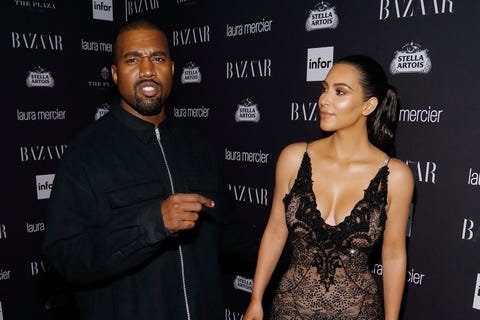 In a video released on her app today, Kim Kardashian subtly revealed that her husband Kanye West doesn't like her middle name. Yeah, idk, it was weird. This story is a journey, so get ready and read carefully.
First, Kim said that a few weeks ago she tricked the entire planet when she Instagrammed this photo of Chicago with the middle name "Noel." Guess what? Noel isn't actually Chicago's middle name! Yeah.
? Chi ? Noel ?
A post shared by Kim Kardashian West (@kimkardashian) on
She explained it this way: "I love the name Noel. Kanye does not," Kim said. "So, I unoffically Instagrammed 'Chi Noel' and I was like, 'I'm doing this because I want her middle name to be Noel.'"
All things considered that's pretty funny, because 1) Kim was shady as hell and just decided to tell the world her daughter had a middle name that she did not have, totally giving Kanye's opinion the middle finger and 2) Chicago West, at the ripe old age of six months old, has been living a lie and pulling a fast one on everyone. Major props.
"I haven't really been into middle names, but I really wanted a name that was short," Kim explained. "A one-syllable name. Noel is my middle name, and it's not a one-syllable name, but it's short."
…… Hold on. If Kanye didn't like the middle name Noel for Chicago, but Noel is also Kim's middle name, that would mean that Kaney doesn't like his own wife's middle name. That's weird, right? Anyone? Just me? Okay.
"Chicago just looks really long to me and doesn't flow, so I call her Chi. She can decide later if she wants to be called Chicago or Chi. But she's so girly. When she first came out I was like, 'What do we name her?' It was the hardest decision ever and I could not think of a name."
Yep, makes *total* sense Kim. Total sense.
Follow Emma on Instagram.
Source: Read Full Article