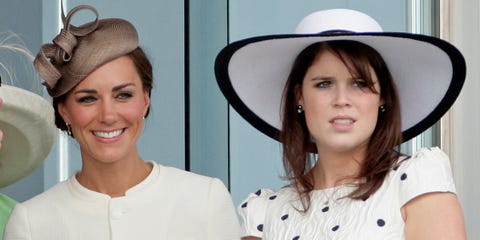 Prince Harry and Meghan Markle's wedding was a major affair for the royal family, and they're now busily preparing for Princess Eugenie's wedding, which is due to take place on October 12, 2018. But according to a new report, Kate Middleton might not make it to Princess Eugenie's nuptials.
Closer magazine is reporting that the Duchess of Cambridge might be forced to choose between two important events which could coincide—Princess Eugenie's wedding, and the birth of her sister Pippa Middleton's first child.
As the Express reports, Pippa's "due date is at some point in October, although the exact date has not been announced." She recently revealed that she is now in her second trimester, in a column for Waitrose Weekend magazine. So if Pippa does, indeed, go into labor in October, the Duchess of Cambridge will likely want to be at her sister's side.
Nearly put my neck out getting the right angle to shoot this for @waitrose – @profgregw with #pippamiddleton for pregnancy swim exercise training. #locationphotography #swimming #pregnancy #portraitphotography #exercise #healthylifestyle @sweatybetty @missbingmakeup #summer #pool #swimsuit
A post shared by Mark Harrison (@mark_harrison_photography) on
Closer is also reporting (via Life & Style's source) that Kate has already "given Pippa some of Prince George and Princess Charlotte's hand-me-downs but is obviously keeping some for Louis and her next baby. Kate and Pippa have had so much fun shopping online for baby clothes and accessories!"
Meanwhile, Princess Eugenie will marry Jack Brooksbank at the same venue at which Prince Harry and Meghan Markle got married earlier this year. Their wedding is set to take place in St. George's Chapel in Windsor Castle, and 2018's second royal wedding is sure to be just as star-studded as Harry and Meghan's.
Source: Read Full Article