Meanwhile, Peter Artemiev claims that he is 'saddened to learn of the utterly false statements made on social media' by her co-parent, with whom he shares a son together.
AceShowbiz -This Christmas is seemingly not merry for Julia Fox. The "Uncut Gems" star took to her Instagram account to slam Peter Artemiev, with whom she shares a son named Valentino, ahead of Christmas, calling him a "dead beat dad."
Alongside a picture of Peter, Julia asked her followers, "Have you seen this dead beat dad?" The "No Sudden Move" actress went on to note sarcastically, "He can be found at most strip clubs, Lucien, Paul's bbg, Casablanca, the streets etc."
"Please REMIND him that he has a child to take care of! Oh and if u chill w him knowing damn well he is a dead beat alcoholic drug addict dad, you are not my friend and I will call you out too!!!" she wrote before tagging several accounts.
During her two-day rant on the platform, Julia also wrote, "Going thru all the screen shots and videos and photos is traumatic for me. I can't even do it anymore. I just don't want my son f**ked up cuz he feels like his dad was absent or loved alcohol and partying more than him. As a mother anyone could understand that."
"TAKE CARE OF YOUR KIDS MEN!! AND OTHER MEN, HOLD DEAD BEAT DADS ACCOUNTABLE!!! It's damn near 2022 how can u say u care about women and mothers and single mothers and ur out here enabling the behavior!!!" she continued.
Of Peter, Julia went on to describe, "This man would wake up at 4pm. My son goes to sleep at 7!!! Do better please!!! It's holiday have heart and see your kids!!!!!!! This man left me with a 5 month old and a dog and a home and ALL THE BILLS. It's wrong!!! It's not fair."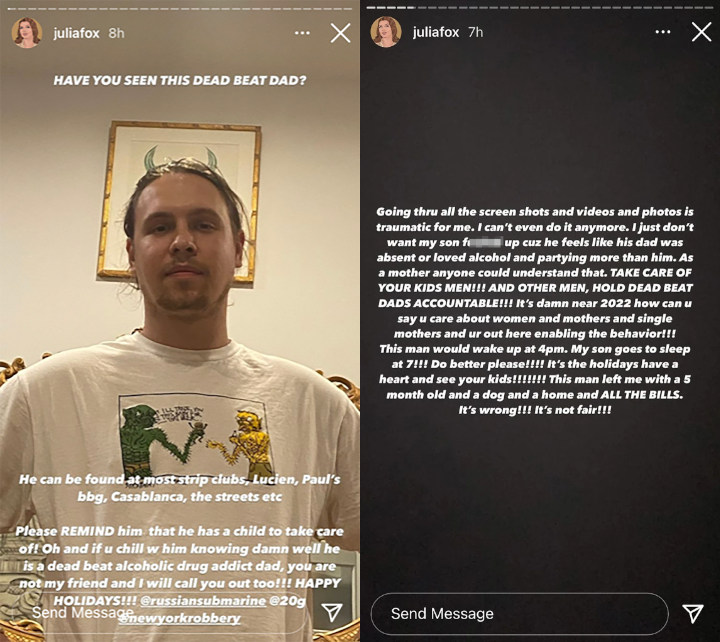 Julia Fox slammed Peter Artemiev on Instagram.
Peter caught wind of the claims and allegations leveled at him by Julia. Speaking with PageSix, he said, "I was saddened to learn of the utterly false statements made on social media by Julia Fox, my co-parent, who is clearly struggling. Out of respect for her privacy and to protect our child, I will not comment further."
Source: Read Full Article