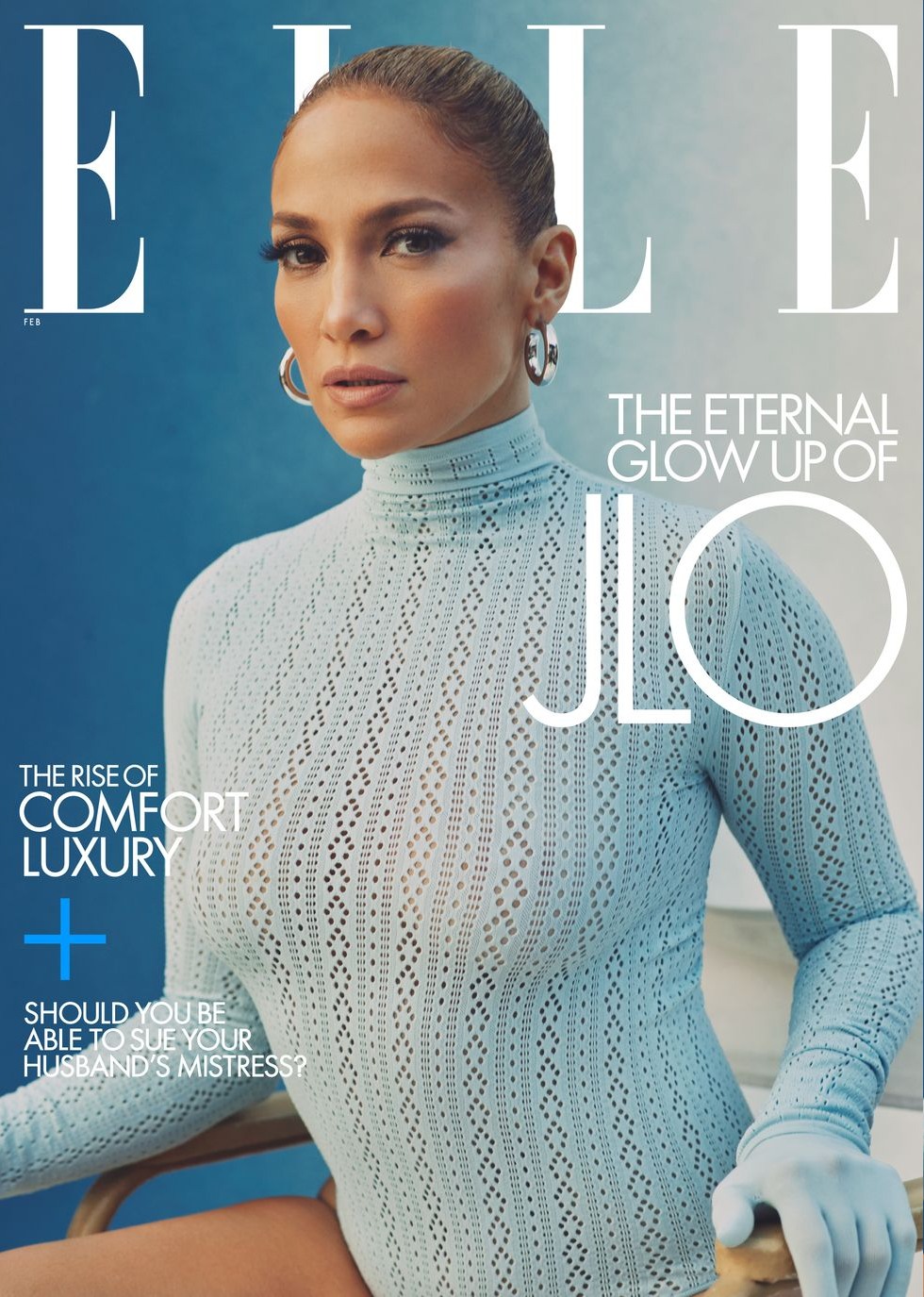 Jennifer Lopez covers Elle for early promotion for Marry Me, the film she did with Owen Wilson and Maluma. Maluma got his own Marry Me cover of Elle too – Owen did not. But for the bulk of this interview, Jennifer is talking about her J.Lo Beauty line, which she launched a few months ago. What I didn't realize before now is that the line consists of only eight products: "a cleanser, a serum, a sheet mask, a night cream, an SPF moisturizer, an eye cream, a bronzer/complexion booster, and a dietary supplement." I thought it was a lot bigger than that! You can read the full Elle piece here. Some highlights:
The second Latin music wave: "I was part of that [first wave], and that was Latin artists coming over and singing in English, but now this is such a different thing. This is Spanish music becoming American music, becoming global music."

Figuring out her beauty line during the pandemic: "I didn't plan to be trapped at home. But I had planned to be home, and it's been good. Wherever I go, the number one question people ask is, 'What do you do for your skin?'  Even my closest friends are like, 'Come on, bitch, what are you doing with your skin?' "

The products include olive extract: "Some of us had drier hair than others, and they'd take out a bottle of olive oil and they'd put it in your hair. Then it would drip down onto your face, and the next day, your complexion looked like you were 10 years old. Even when I was working in the business, and they would be gluing stuff to my head, and hitting me in the face with a fan at 100 miles per hour on movie sets, I'd come home and lather myself in it."

She's a big believer in her sheet mask: "I've tried everything from the cheap products at the drugstore to the most expensive stuff—and some of these masks can run you $50 to $200, okay? They are expensive. My kids are, like, trying to put it on, and I'm like, 'Don't touch that mask, that's too expensive to play around with.'"

Alex Rodriguez tests her products too: "[Alex] tries everything. We did the mask together on the first night, and I filmed myself and it was just life-changing. I was like, My God, I feel like I have a baby face! He loves it, and now we're always fighting for the mask since they're not in full production. [These products] are for anybody who has skin, which is everyone."

On her wedding to A-Rod: "We postponed the wedding twice. We had planned what we really, really wanted to do, [but] I don't know if we'll be able to re-create that. We canceled it, and since then we haven't really talked about it. There's no rush. We want to do it right when we can do it. We just have to wait to see where the world lands."

On politics (this was before the election): "I've told everybody who works around me, all my family, 'Don't even talk to me if you haven't voted.' The world right now is so confusing to me, because I feel like we all know that things need to change. It doesn't matter if you're Republican or Democrat, if you're looking at the world right now, you know that we can do better—you know that. We can't stay with this administration, we just can't. It's the definition of insanity." Four years ago, she was at Hillary Clinton's election-night party. "I just remember thinking that [a Trump win] could never happen. So we can't take anything for granted."

On being Puerto Rican and American: "The idea of using the song 'Let's Get Loud' [was about] never staying quiet and always using your voice against any injustices in this world. I feel like sometimes people act like it's not our country, too. It was very important to me to put in 'Born in the U.S.A.' and have my daughter sing it, because she was [born here] and I was, too. My mom came here. She was not born here; she was born in Puerto Rico, and [my parents] moved to New York. We are proud Puerto Ricans and Latinos, but we're proud Americans, too."
[From Elle]
I appreciate the part where she didn't want her kids to play around with her expensive beauty products. Unlike so many celebrity parents, I've never gotten the vibe that Jennifer spoils her kids to excess, and she has kept in touch with her middle-class-Bronx side when it comes to parenting (and probably not much else). That being said, she actually sold me on her beauty line! I'm a big fan of Jennifer's perfumes so I was curious about this beauty line, and now I really want to try some of these products, especially the eye cream and night cream.
https://www.instagram.com/p/CKBvMc_n6AS/
A post shared by ELLE Magazine (@elleusa)
Cover & IG courtesy of Elle.
Source: Read Full Article