Obviously, every single season of The Bachelor and The Bachelorette is hyped as the "most dramatic ever," but if we're being honest, Hannah Brown's run as Bachelorette is in the running for actually taking the title. In addition to alllll that Luke P. drama and making windmills synonymous with sexy time, Hannah's actual engagement to winner Jed Wyatt spectacularly imploded before they could make their official public debut as a couple on the season finale.
Usually, the After the Final Rose special is a time for the Bachelor or Bachelorette and their chosen love to beam about their happiness, engage in some light PDA, and deflect obligatory questions about setting a date for their wedding. When Hannah and Jed came face-to-face for the special, however, their vibe was mostly: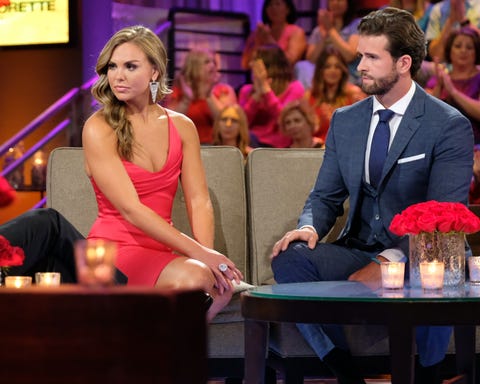 With a little: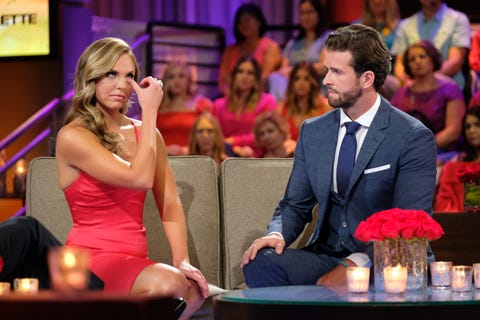 This was because they had already ended their engagement, amid allegations that Jed had a girlfriend when he came on the show/cheated on Hannah after their engagement. Naturally, Bach cameras were present for the moment when Jed and Hannah talked things out/broke way the hell up.
Unsurprisingly, Jed, who was subsequently labeled a Bachelor Nation villain, was not too keen to have that convo in front of cameras, but in a new interview for the Reality Life With Kate Casey podcast, he revealed that he wasn't really given a choice in the matter.
"The show absolutely insisted that, you know, I hash it out with [Hannah] in person and this and that, and give it to the public so that they can come at me and totally just roast me," Jed said (per Us Weekly), adding that his inbox flooded with "thousands" of very negative DMs after the episode aired. "It would [be full] of people just saying crazy stuff, like, suicidal stuff, jump off a bridge, like, 'You should kill yourself. You're done.' Like, all of this, like, about my music, about my life, about my family, like, all down the line."
Even though Jed says he found the influx of digital hate "comical" at first, it quickly started to weigh on him and really affect his mental health.
"It led to me kind of going into a very deep hurt that I can't really—like, not many people [among] my friends, at least, can relate to it," he explained. "I didn't know what to do, I really should have went and got therapy. I didn't do that. I did a lot of meditation, did a lot of journaling, ended up doing a lot of drinking and partying. Nothing really helped me until I met [my girlfriend] Ellen [Decker]."
Ultimately, it's clear that Jed didn't feel like the conversation should have been filmed at all—and it seems like he still resents the fact that producers pushed him to have the breakup talk on camera.
"The only [person] that I needed to talk to at the time was Hannah….no one else needed to know anything," he said on the podcast.
Source: Read Full Article