In a video posted on Twitter, Adam Mosseri addresses the concerns that the platform is shifting to videos over pictures, copying the format popularized by TikTok.
AceShowbiz -Instagram CEO felt the need to speak up after the platform was criticized by two of the most famous influencers. Adam Mosseri has responded to the criticism by its users, including Kylie Jenner and Kim Kardashian, regarding the changes on the app.
Kylie, who has more than 360 million followers on Instagram and is currently the second most-followed account after soccer star Cristiano Ronaldo, recently posted a meme calling Instagram to stop copying TikTok. "Make Instagram Instagram Again," the meme states. It continues, "(stop trying to be tiktok i just want to see cute photos of my friends). Sincerely, Everyone."
Kylie added on the Instagram Story, "PLEASEEEEEEE." Meanwhile, her sister Kim, who has over 326 million followers, echoed the sentiment by sharing the same meme and wrote over it, "PRETTY PLEASE."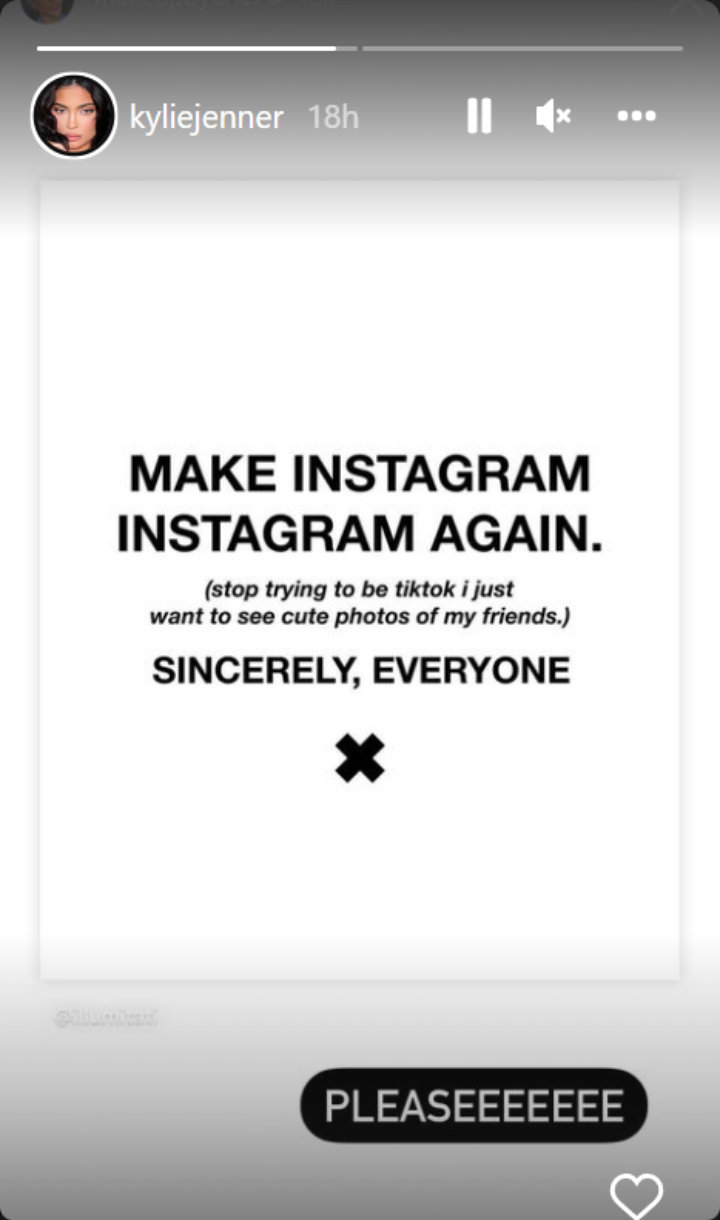 Kylie Jenner posted a meme criticizing Instagram.
On Tuesday, July 26, Adam took to Twitter to address the criticism. He said in a video which has a label "constantly evolving" at the beginning of it, "I'm hearing a lot of concerns about right now about photos and how we're shifting to video. Now, I want to be clear, we're gonna continue to support photos. It's part of our heritage."
Adam, however, insisted that the change to video format cannot be avoided. "That said, I need to be honest: I do believe that more and more of Instagram is going to become video over time," he stressed. "We see this even if we do nothing. We see this even if you just look at chronological feed. So we're gonna have to lean into that shift."
Adam also addressed concerns over Instagram's test of a full-screen version of users' feed. He said the test is available only to a "few percentage" of Instagram users and that it still needs work. "It's not yet good," he admitted.
He went on talking about the "recommendations" feature, which shows users content from accounts they don't follow. "We're going to continue to try and get better at recommendations," he explained, "because we think it's one of the most effective and important ways to help creators reach more people."
In the end of the video, Adam asked for feedback from users as he also wrote in the caption, "I wanted to address a few things we're working on to make Instagram a better experience." He added, "Please let me know what you think."
Taking the opportunity to express her similar complaint, Chrissy Teigen wrote to Adam, "we don't wanna make videos Adam lol." The Instagram head quickly replied to the model, "If you don't want to make videos, it's better not to. What I want is an Instagram that is about photos who prefer photos, and is about video for those who prefer that format."
The Change.org petition Kylie and Kim referenced had less than 100,000 signatures before the Kardashian-Jenner sisters showed their support behind it. It has quickly garnered 140,000 supporters after they weighed in on the issue.
The petition took issue with Instagram's increased promotion of Reels, its short-form video feature copying the format popularized by TikTok. "We have TikTok for a reason, and let's face it, the only [Instagram] reels uploaded are recycled TikToks and content that the world has already seen," the petition, launched four days ago by photographer Tati Bruening (@Illumitati), reads. "What's innovative and unique about old stale content? Nothing!"
Source: Read Full Article