'Use this money to build an emergency fund if you do not have one.'
For many, the Diwali bonus is like a lifeline that enables them to get their house painted or acquire a high-ticket appliance they have waited to purchase for a long time.
Says Jay Thacker, member, Association of Registered Investment Advisors: "While the basic instinct is to splurge the bonus amount on a lavish holiday, or wants and desires peripheral to the festivities, a Life Planning approach suggests you should proceed judiciously."
Here are a few ways you can make the most of these funds:
Repay loans
At the top of your priority list should be reducing your debt, especially high-interest debt.
Says M Barve, director, MB Wealth Financial Solutions: "Pay off credit card outstanding first, followed by unsecured loans like personal loans."
Ideally, one should pay off high-cost debt before investing.
Says Barve: "When you invest while you are still carrying high-cost debt, you end up losing money. This behavioural finance error is called mental accounting."
Mental accounting refers to people segregating their money into separate 'accounts', each one of which they treat differently.
Imagine carrying credit card debt at 40 per cent while the money to repay it sits in a bank account earning 7 per cent on a fixed deposit.
Some part of the bonus may also go into repaying your home loan to bring down the principal amount.
Bolster your emergency fund
The next best thing you can do is to create an emergency fund.
Says Colonel Sanjeev Govila (retd), CEO, Hum Fauji Initiatives: "Use this money to build an emergency fund if you do not have one."
If you have dipped into your emergency corpus, the Diwali bonus should be used to replenish it.
While three to six months' household expense is the norm, many advisers now suggest a corpus equivalent to one year's household expense, especially for those with irregular income, and those employed in sectors that could be potentially affected by an economic downturn.
Says Thacker: "The emergency fund should be typically invested in highly liquid, secure, interest-bearing instruments like sweep fixed deposit, liquid funds, high-interest savings account."
Spend on white goods, but judiciously
Diwali is a good time to buy white goods, and gadgets, as mouth-watering discounts are available both offline and online.
Even car dealerships across the country are offering discounts between Rs 25,000 and Rs 1 lakh.
However, take care not to fall into a debt trap.
Says Colonel Govila: "Exercise self-control. Do not buy something just because an offer or a BNPL scheme is available."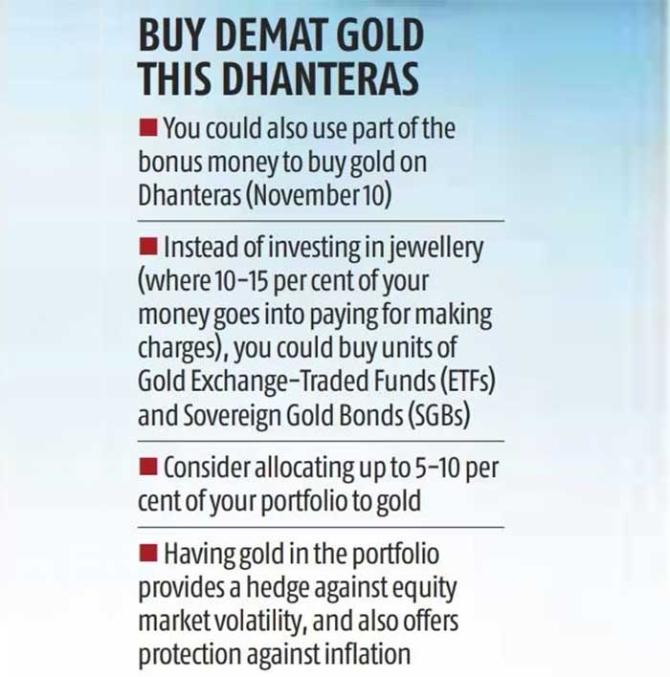 Invest in your key goals
Ideally, the larger portion of the Diwali bonus should be invested.
Says Thacker: "If a short-term goal is running in deficit, the bonus amount is an opportunity to make up the shortfall."
If your long-term goals are well defined and the asset mix is in place, invest any surplus you have based on your order of priority. Also, consider the level of deficit in achieving various goals.
Says Thacker: "An investment in equity mutual funds or in direct equity should fetch the best risk-adjusted returns for goals that are 10 years or more away."
Use the systematic investment plan (SIP) route to invest in equity mutual funds.
Says Thacker: "If you have a lump sum, place it in a short-term debt fund and then create a systematic transfer plan for the destination equity fund. It is also possible today to make similar systematic investments into direct equities."
If you are not sure about where to invest, begin your journey by investing in a Nifty 50 index fund.
QUESTIONS ABOUT MONEY? ASK rediffGURUS!
Spend on reskilling
Most industries and sectors are undergoing rapid technological and economic transformations.
Says Barve: "Make investing in yourself a priority. With Artificial Intelligence expected to disrupt various industries, using the bonus money to reskill oneself is a smart choice."
Give gifts
The point of money is not just to accumulate or spend on yourself. It is also about sharing.
Gifting part of the bonus amount to family and friends, or even donating it, will give you satisfaction.
Feature Presentation: Ashish Narsale/Rediff.com
Source: Read Full Article