'Today, we have 150,000 orders a month. And a monthly sale of Rs 1 crore.'
When Shobha Warrier interviewed the world's largest exporter of roses in 2010, she did not imagine that one day she would be interviewing his daughters too.
Like father Ram Karuturi, Yeshoda Karuturi also is wedded to flowers. Joining her is her younger sister, Rhea Karuturi.
But it was not roses that caught their attention. Not exports too. It is the domestic market and puja flowers.
The sisters thought that it was an interesting market to tap as majority of Indian households perform puja in the morning, and flowers are a must for the puja.
Here is Yeshoda talking about how she started Hoovu (flower in Kannada).
"We felt it was a huge market to tap, as we need puja flowers every day and not on any particular occasion," Yeshoda Karuturi tells Rediff.com.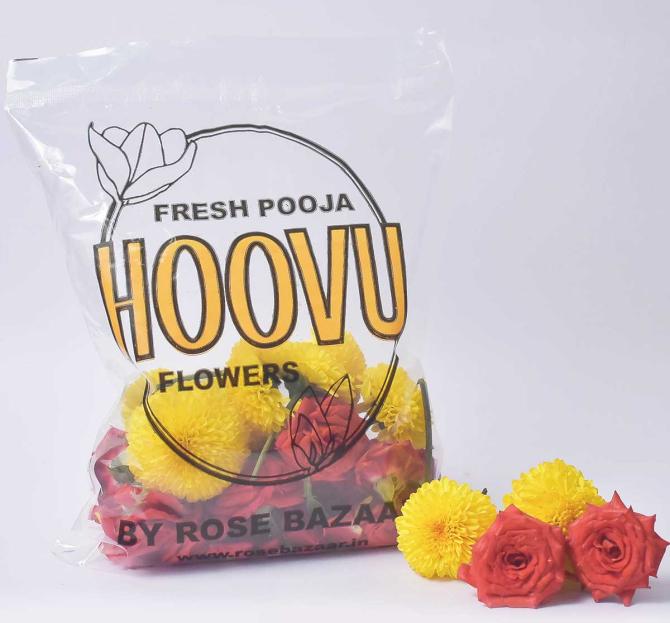 How was it growing up in Ethiopia amidst roses, where your father had rose farms?
The year I was born, my father had a rose farm in Bangalore. After a few years, he decided to expand his business and from then on, we lived in Ethiopia, Kenya and Europe as well.
At that time, we didn't really understand what our father was doing. There were flowers in every corner of our house all the time. I cannot imagine what life would be without flowers!
Whenever I told our father sold roses, nobody could believe selling roses could be a business.
I remember when I went for my US visa appointment for my college studies, I was asked, what does your father do?
I said, my father sells roses.
The visa officer then asked me, are you sure you can afford the college fees?
You didn't tell them your father was the largest exporter of roses in the world?
I didn't. I should have!
What do you remember about visiting his rose farms?
Usually you associate work with factories, machines, etc. but for us, work is associated with fragrance and colourful roses.
We never looked at what our father did as business, it was our farm and those were our roses.
The kind of passion and love our parents had for roses rubbed on us, perhaps unknowingly and later on when we started our own business, it helped us.
What I can never forget is father naming roses after my sister and I!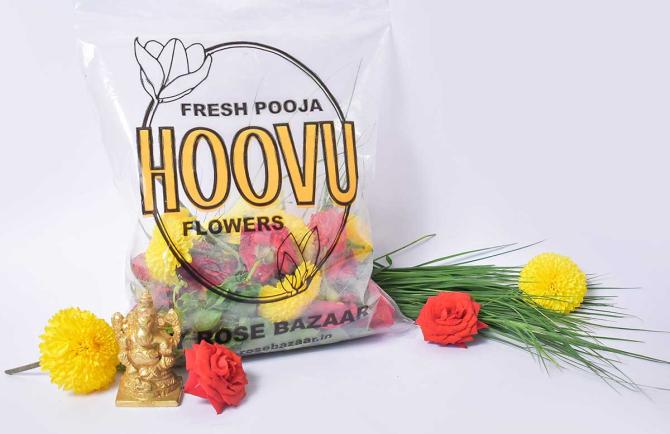 Did the seed to become an entrepreneur sprout after those visits to the rose farms?
To an extent.
From young, I was interested in agriculture-related businesses, and that was because of my regular visits to the rose farms and the kind of business my father was involved in.
My grandfather had his own business, and my father also started his own business. So, it was but natural or expected that we also would do something on our own, and create something new.
I had seen my father set up his own business and reach great heights in a short period of time. That taught me, if you tried, you could achieve any goal.
Most of the time, people do not try because of the fear of failure. Since our father had achieved the impossible, we felt there was nothing impossible.
So, not trying was never an option. Whether we succeed or not, I was sure both my sister and I would do something of our own.
You talked about going to the US for higher studies. Was it to learn how to be an entrepreneur?
I did my Master's in Accounting and Business Administration. Yes, I did study how to run a business.
But the real reason why I went to the US was to learn how to be independent and how to live in an unknown country on your own.
Was it like taking the first steps to be an entrepreneur?
In a way, yes.
I was constantly thinking about what I wanted to do, and what I wanted to set up.
I also had those conversations with our parents as well.
My father used to say, if you want to stay back, you can. If you want to come back, come back.
Both of them were very encouraging of us taking our own decisions.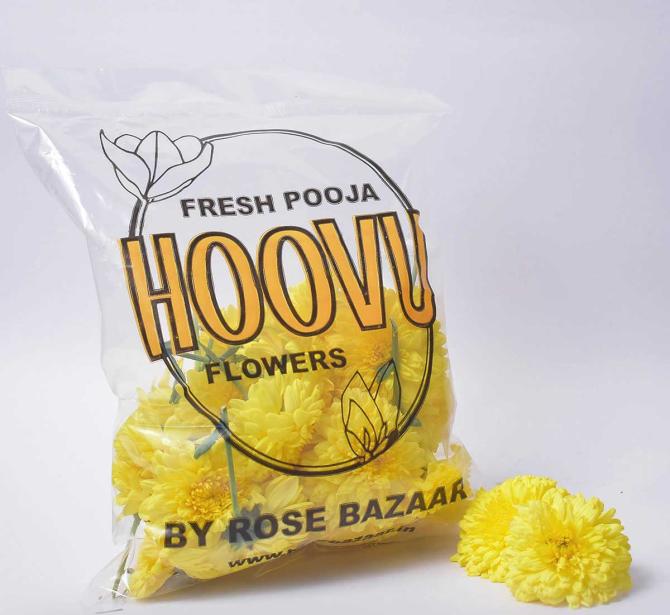 So, did you come back to India to be an entrepreneur here?
Actually, no.
My initial plan was to stay back in America for a few years and get some work experience there. But a month before I was to graduate, my father had a heart failure, and he was quite sick.
I came back immediately and finished my semester remotely.
As most of his work was outside India and as he could not travel, I helped him carry on with the business.
Soon, Rhea also came and both of us helped him till he got better.
The experience we had helping him out was so helpful that once he was ready to go back to work, we had started thinking about starting something of our own.
You didn't want to continue working for him?
In our family, like I said earlier, everybody does her own thing. It was a great experience taking care of our father's business.
But when you create something of your own, it's like taking care of your own baby. Of course, you take care of someone else's baby, but you need a lot more hard work to take care of your own baby.
What was the inspiration behind starting Hoovu?
As I understood flowers better than others, somehow, I knew what I would be doing would be something to do with flowers.
One day when I came home, my mother happened to be doing her daily puja. And she uses a lot of flowers for her puja. You can say, that was the Aha! moment. It was like, 'Oh my God, flowers can be used this way too'!
Suddenly it dawned on me that it was the most common way to use flowers in India.
Whenever we think of flower business, images of bouquets, wedding decor, etc come to our mind. We never think of puja flowers as nobody has portrayed flowers as part of puja business before though these flowers are there everywhere. And Indians do puja every day.
I really got excited. From then on, Rhea and I started researching on the puja flower industry.
That was how our business started.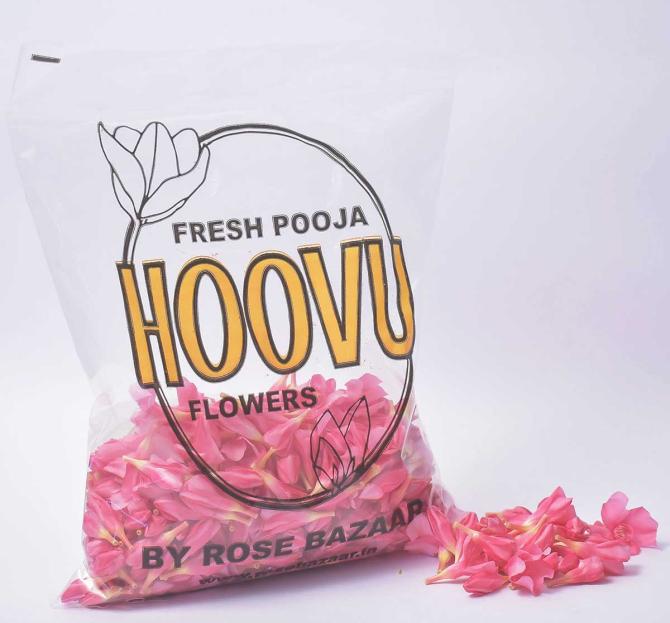 Why did you decide to name your venture, Hoovu, the Kannada word for flower?
Rhea and I were brainstorming a lot on a name, finally it was she who came up with the name. She asked me, why not Hoovu?
We wanted to have a south Indian brand that would be there all across the country. We also wanted to pay homage to the city we come from. Above all, we tend to think of puja in our native language.
Were you also sure that you and your sister would start the business together?
Actually, we weren't.
When I started the business Rhea was still in college. But she helped me in many things like setting up the Web site. In fact, she was my go-to person for everything; both for emotional support and actual support. She was the person with whom I brainstormed all the time.
I would say, she was helping me like a good sister would!
As the idea started formulating, she was ready to graduate from college. Then I asked her whether she would join me, and she said, yes.
What was your business plan, just to sell puja flowers?
My plan was to create a captive brand around puja flowers.
Usually when you think of flowers and puja, you are worried about getting good quality flowers, going to the market, bargaining with the vendors, etc.
Regardless of how people pray or to which God people pray, puja is supposed to be a meditative experience. But the process to prepare for it is sadly, stressful and toxic in a way. And we wanted to remove that stress and make everything about puja a beautiful experience.
To make the journey of flowers from the farm to the puja room a beautiful experience, we knew we had to join hands with the farmers so that flowers travelled straight from the farm to the puja room without getting damaged.
Since we came from the flowers supply chain background, we could work with a lot of farmers. That was how, we could ensure excellent quality of flowers.
Though this was our business plan, initially we did everything connected with flowers; from bouquets to home decors subscription. Of course, there is a lot of potential in all the areas that were related to flowers.
As entrepreneurs, puja flowers made more business sense to us and the most scalable option.
What exactly do you mean by scalable?
The question was, how do we take say, a 100 gm packet of puja flowers fresh to households across India. And how do we develop the machinery?
We actually developed the first flower packing machine of its kind in the world with which we could pack flowers automatically. It was designed by Rhea.
This was the kind of scalability we were looking at. When a lot of people are working in the field floral bouquets and decors, nobody was trying to create a brand in puja flowers.
We felt it was a huge market to tap, as we need puja flowers every day and not on any particular occasion.
How did you manage the capital? Did your father help you with the initial investment?
No, we didn't want our father to invest as we wanted to prove ourselves as entrepreneurs. One of our well-wishers came in as an angel investor and we started with a capital of Rs 10 lakhs (Rs 1 million).
From the beginning, we built the business in such a way that we wanted it to be a sustainable and profitable venture. We didn't want to grow fast by burning money. So, we were very cautious.
We started in a corner in my house with a small team of two people and one packing machine. As business picked up, we moved to a bigger office with more machines.
Today we have four warehouses: Two in Bangalore, one in Hyderabad, and one in Mumbai.
One of our warehouses in Bangalore is 10,000 square feet where we have multiple machines. We have 100 people working for us now.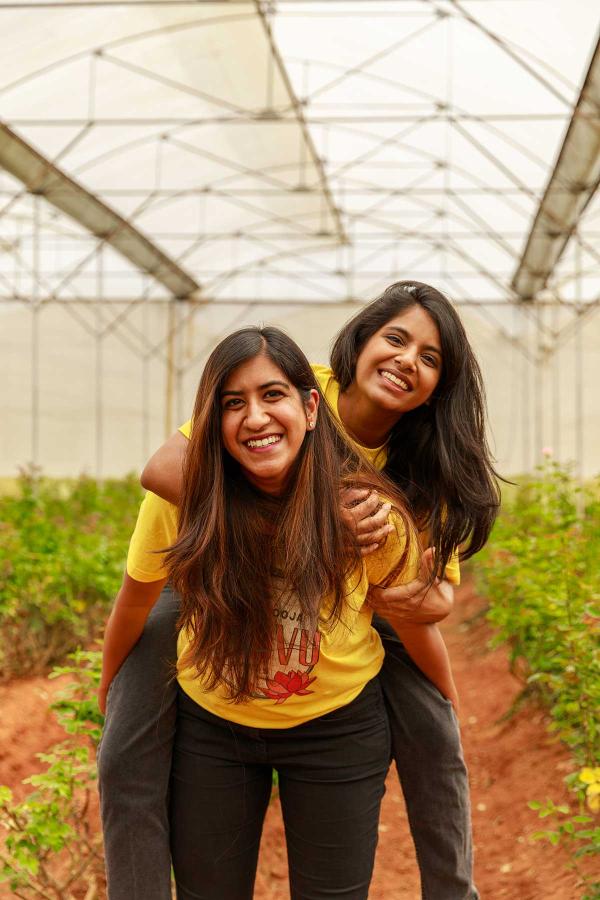 How did you manage to get the attention of people and make them aware that they could subscribe and get puja flowers daily at home?
We launched our venture on Valentine's Day — February 14, 2019. It was a great way to get the attention of the people as that was the day people would think of flowers.
Of course, we wanted to concentrate only on puja flowers ultimately.
We visited a lot of apartments, spoke to a lot of people. That was how we began, in a small way.
Once people started using our products, we got a lot of word of mouth publicity.
Our first order was an hour and half away from where we were, and to carry a packet of flowers that far did not make business sense! But we didn't want to say 'no' to any order.
Today, we have 150,000 orders a month. And a monthly sale of Rs 1 crore (Rs 10 million).
We are now on different quick commerce platforms like Big Basket, Zepto, etc and that is how we sell our flowers. Through our Web site, we sell only non-flower related items like agarbattis.
You started in 2019. Then the pandemic came in 2020. How did it affect your business, that too soon after you began?
As we were growing very fast by adding more and more subscribers every day, we were super excited.
We had around 800-100 customers when the pandemic struck. And we had to stop our business completely. We were closed for a few months.
When you are such a young company, you are not sure what would happen to the business. Those were stressful days.
When we re-started, our customers came back. They understood why we had to close down our operations.
Was it a difficult journey after covid or exciting?
It was exciting. Because of covid, Internet adoption became quick in India. People started using delivery platforms more, and it helped us immensely. We didn't have to teach people how to order online.
After the pandemic, instead of going to a crowded market, they preferred shopping online, including flowers.
Our orders started picking up and it was our turn to catch up with the demand that came.
What is your dream for Hoovu?
We want to be a reliable brand for puja flowers all across India. We want our brand to be synonymous with puja.
Feature Presentation: Ashish Narsale/Rediff.com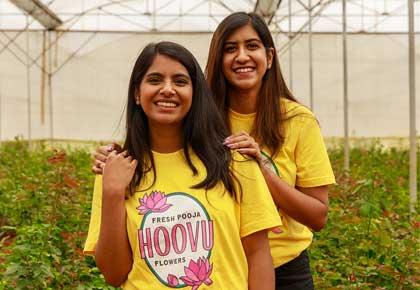 Source: Read Full Article