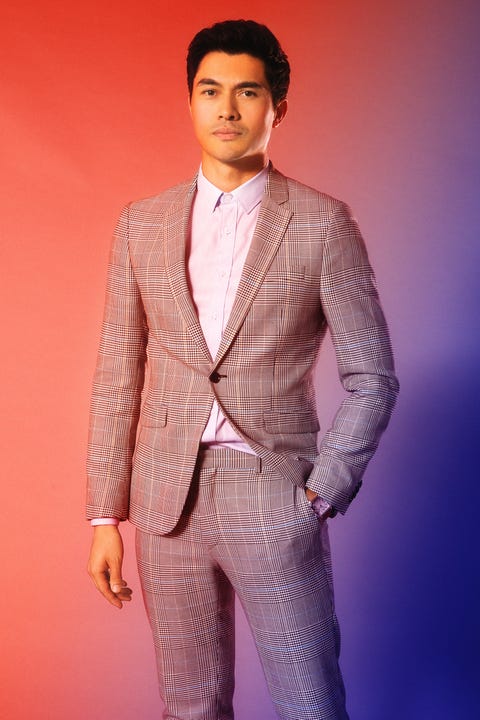 Henry Golding is living out his childhood dreams as you read this. When he was 8, Golding and his family were on the verge of moving from the east coast of Malaysia to England. While everyone else was packing, Golding found himself alone on the beach. "It was the first time I remember thinking about what I wanted to be," Golding tells me with an enchanting smile while sitting in a white swivel chair inside the Cosmopolitan.com office in New York City on a cool early summer morning.
"All I saw was bright lights, something really impactful," Golding says. "The seed was planted. Ever since, I've always dreamed— and always knew—that at some point I would get into acting and hopefully aim towards obviously the highest possible achievement: Hollywood."
Fast forward 20-plus years and Golding is primed to be blinded by the bright lights of red carpet photogs and fans requesting selfies. On Aug. 15, he'll make his feature film debut in the highly anticipated big screen adaptation of Crazy Rich Asians, based on Kevin Kwan's bestselling book of the same name.
Golding plays Nick Young, the charming and handsome NYU economics professor who secretly comes from one of the richest families in Singapore. His girlfriend Rachel Chu, played by Constance Wu, learns the truth about his wealth while tucking into her first-class seat (we're talking a full length bed, champagne—the works) on a flight overseas en route to his best friend's wedding. As Nick says in the scene, he and his family are just "comfortable" and it's really not a big deal. "That is exactly what a super-rich person would say," Rachel chimes back.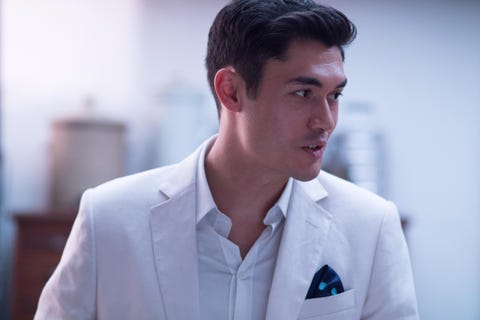 Crazy Rich Asians is a fast-paced, gorgeous, satisfying smorgasbord of a film that offers a little something for everyone: a kind of makeover scene that'll impress even the nerdiest of rom-com nerds (it takes place in a closet bigger than most New York City apartments, of course); seductively shot scenes of street food (oh yes, you'll be hangry); and real-estate porn, Instagram-worthy shots of beach resorts, and sharp one-liners (some stinging longer than others). In the middle of all this over-the-top display of opulence, Golding is an effortless natural—and it's not just because he's drop-dead gorgeous in every single frame. (He is though.)
"I kind of dismissed myself. That's my own mistake, that's something I learned."
The rest of the cast is a dream. Ken Jeong and Awkwafina play father and daughter, Goh Wye Mun and Goh Peik Lin; Sonoya Mizuno (Ex Machina) plays Nick's BFF's fiancé Araminta Lee; Gemma Chan (AMC's Humans), comedian Ronny Chieng, and Remy Hii (Netflix's Marco Polo) are Nick's cousins Astrid, Eddie, and Alistair, respectively; and Harry Shum Jr. plays Astrid's ex.
And then there's his onscreen mother Eleanor, played by Michelle Yeoh. Or, as Golding puts it, "the heart and soul of this project." One of Golding's favorite scenes takes place in Nick's childhood bedroom during a big family party held at Tyersall, his grandmother's estate. The scene is between just Nick and Eleanor. "It's this moment you realize why Eleanor is being this dragon mom," he says. "You see the love she has, the do-or-die mentality, and it's because she loves her son. It was away from the party, this lull within the storm that was happening… That was when I felt the most relaxed, was when I was in her presence. She was just such a beacon."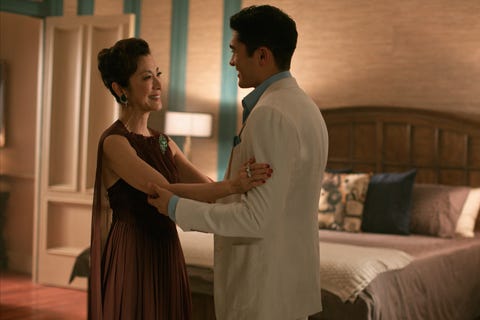 Golding's casting, which was announced in March 2017, almost didn't happen. As he puts it, he came "right at the 11th hour" for director Jon M. Chu, who "had literally seen every single male Asian actor on the face of this planet." According to Golding, days before a shortlist of actors was due at Warner Bros., someone from accounting named Lisa Kim, who met Golding years ago at an event he hosted in Malaysia, brought up his name. (If you're unfamiliar with Golding's pre-Hollywood days, be sure to check out his travel hosting reel, which includes gigs on BBC 2's The Travel Show and Discovery Channel's Surviving Borneo.) This led to a "carefully crafted" e-mail that made its way from line producer Tim Coddington to Chu, who took no time falling down what Golding calls his "Instagram and YouTube hole, where I've got a lot of material."
When the call came to audition, Golding was hesitant. "I said, 'No, I'm a travel host, I'm sure there's like a million other legitimate actors,'" he says. "I kind of dismissed myself. That's my own mistake, that's something I learned." Not long after Chu convinced him to read for the part, the search for Nick Young was finally over. "It felt like I had found my passion, the passion I had been looking for my entire life," Golding says. "I just threw everything at it."
Spend a morning—OK, just a few minutes—with him, and it's easy to see why Golding got the part. He's an eloquent speaker, has a contagious smile, and carries just the right amount of confidence, just like Nick Young. It almost feels like you're talking to an old friend, only that old friend, who happens to smell like a pile of fresh, neatly folded laundry (with a touch of musk), is about to become one of the most recognizable faces in Hollywood. But Golding also has a silly side.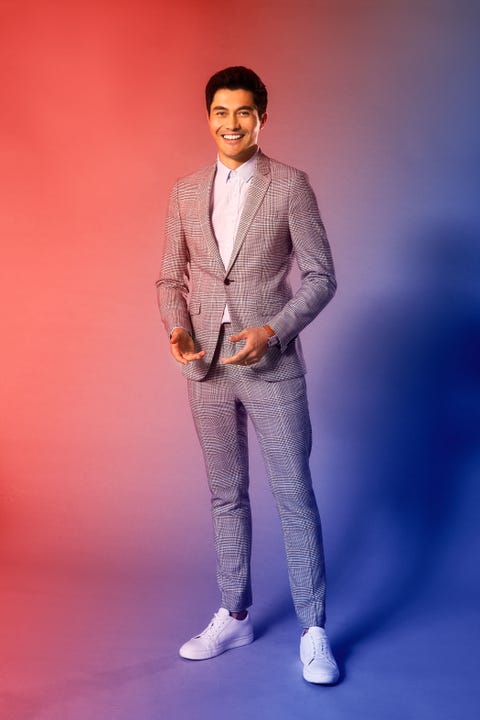 Take this pose, for example. When asked how Nick Young would pose for a photo shoot, Golding jokes, "Like this, gangly, not knowing what to do with his hands," and flapped about some more, before switching back into the serious, secretly rich face of his character.
"The word that always comes up for me is normalizing."
Crazy Rich Asians is the first major motion picture to star an all-Asian cast in 25 years. Golding is well aware of the weight riding on this film, despite the fact that he grew up watching movies made in Hong Kong and Malaysia starring people who looked like him. "We've had such different upbringings," he says of the mostly Asian-American cast of Crazy Rich Asians. (Golding and a handful of others are from Malaysia and Singapore, where the movie was filmed.) "The experiences that we discussed between our Asian-American counterparts, [who] never saw people on the big screen with the same features or never saw [their] stories told, that was eye-opening."
More than anything, Golding hopes that the film inspires other studios to follow suit, especially when it comes to casting. "The word that always comes up for me is normalizing. Normalizing the fact that we have Asian leading men and women telling stories of color that are being watched because of the storytelling, not because it's an Asian story, not because it's an all-Black movie or all-Latino movie, [but] because the story shines through," he says.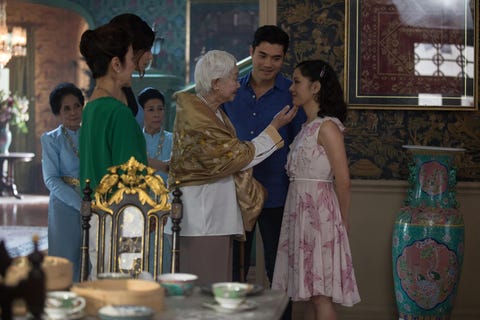 Unlike the book, Crazy Rich Asians has Nick Young shirtless—more than once. "The pressures were on, I'm not going to lie," Golding says. Just before production began, Golding had been "kind of" going to the gym, so help was brought in. "Jon was like, 'Do you want a personal trainer?' I was like, 'Excuse me? I'll take you up on the offer, absolutely.'" Both Golding and Wu would be up as early as 3:30 in the morning working out before shooting. "And miraculously, in that [bedroom] scene where I'm taking my shirt off, I was in reasonable shape," he says. "I was lucky… that leading man expectation is sadly to have all these rippling muscles."
No amount of research or coaching can prepare a leading man for the attention and fame that comes with a major release (think Ryan Gosling after The Notebook or Leo-Mania post-Romeo + Juliet and Titanic). But Golding is ready, more or less. "It's been a whirlwind, that's for sure," he says. "It's one of those things that I'd like to pretend that I'm OK and totally taking in my stride, but once in a while, I'll kind of step back."
"That leading man expectation is sadly to have all these rippling muscles."
As shown in the trailer, Golding oozes leading man qualities the second he walks out of Tyersall to open the car door for Rachel. Before their grand kiss, Peik Lin (Awkwafina) calls him the "Asian Bachelor." She's not wrong, but beyond that moment, Golding will surely soar above reality TV expectations. Perhaps "Asian Prince Charming" would have been more fitting, but Golding is carving his own title, at his own pace.
Before anyone can even begin to think about typecasting Golding as a smooth, tuxedo-wearing romantic lead (with or without abs), he's already filled the rest of his year with two equally big projects–and they're anything but romantic.
In September, you can see Golding in the Paul Feig-directed thriller, dark comedy mash-up A Simple Favor alongside Blake Lively and Anna Kendrick. Golding also spent a few weeks in Vietnam earlier this summer filming Monsoon, in which he plays a young man who brings his parents' ashes back to the country years after the family fled as refugees. "It's about that core story and inner turmoil of never belonging in your own country, coming back and [feeling like] everything is alien," he says.
But what he really wants to do is sci-fi. "When I watch a movie, I want to be taken away into worlds that are beyond my imagination," Golding says. "I want to tell amazing stories that inspire, that bring you out of your reality, give you dreams to be bigger and better than yourself. Hopefully I can be that conduit."
Source: Read Full Article