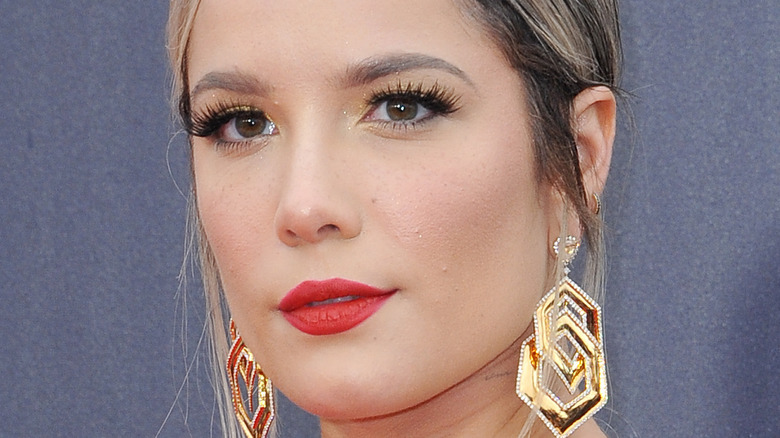 In early 2021, Halsey casually announced that they were pregnant with boyfriend Alev Aydin in a simple but stunning photoshoot on Instagram. They paired a colorful crochet top with light blue denim that contrasted and complemented the silky lilac sheets surrounding them. We also saw a display of their many, many tattoos. However, it wasn't the first time Halsey revealed their collection of tattoos.
A (not so quick) scroll through the "Without Me" singer's Instagram account will give you a complete intel report on the tattoos that seem to spontaneously emerge on their arms. The tattoos range from line art to cryptic inscriptions that reference songs, musicians and zodiac signs – so if you're looking for inspiration, Halsey's social media handles are the right place to look. However, if you've not been following Halsey on Instagram for the real-time updates on their tattoos, read on to know more about their 30+ tattoos.
Halsey's tattoos were first inspired by their mother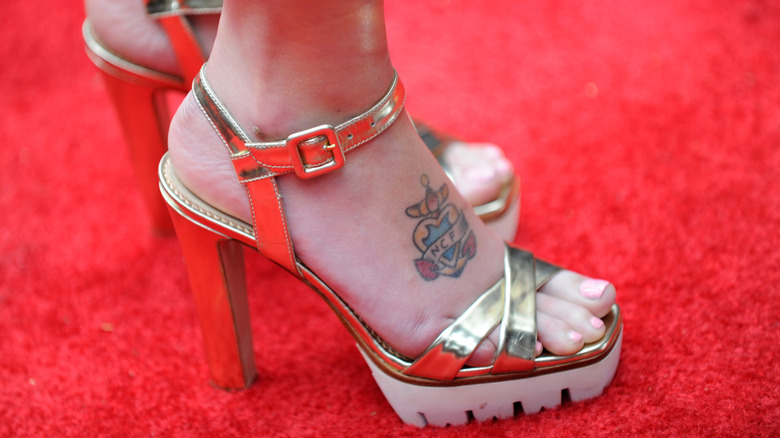 One of the first tattoos Halsey ever got was on their foot. They told iHeart Radio, "It's an anchor, and it has my mom's initials in it, and she has the same one. We got them together. I was really young to have a tattoo, but my mom is covered in them." The musician explained their mother's influence on them, who they said has a full tattoo sleeve and their tongue pierced: "So looking up to her, I always saw it as an artistic thing. My mom's really artistic and just really, really badass." While their mom was trying to deter them from getting more tattoos (a foot tattoo is a world of pain), it clearly had the opposite effect.
As soon as their 16th birthday, Halsey had two roses inked into their shoulder. "It's still one of my favorite tattoos because I'll never dislike it. It just is cool-looking," they told iHeart Radio. The world of capitalism agrees. If you want the aesthetic but can't handle the commitment of a tattoo, you can buy a sticker resembling their tattoo.
Some of Halsey's tattoos represent the people in their life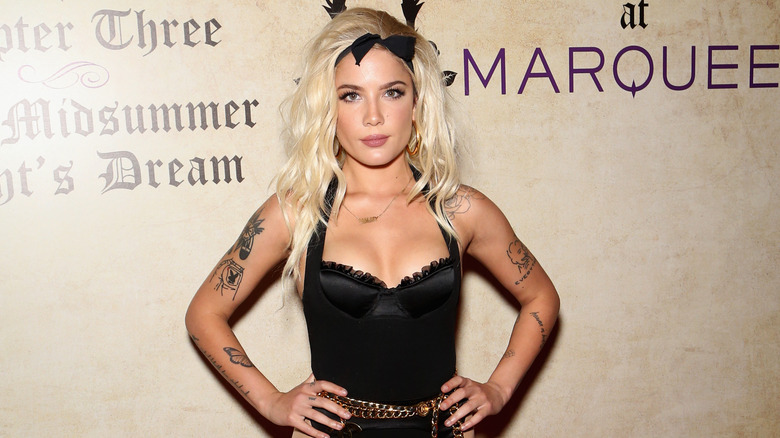 When they were 16, Halsey also got another tattoo – a dagger with the number 13 – "in remembrance of a friend that passed away," they told iHeart Radio. They also have a "5/11" tattoo on their right arm that was their brother's birthday. The matchstick tattoo on their left arm was a coordinated effort with three of their fans – they all have the same tattoo. "They just had blind faith in me, which is crazy. And I got match-ing tattoos with them, and that's the joke," Halsey quipped.
Halsey also got a matching tattoo with their boyfriend, Alev Aydin, soon after announcing their pregnancy together. Each had the other's handwriting spell "seeds" onto their feet. According to the tattoo artist who inscribed them, the tattoos had a spiritual meaning to them. "She said that everything with how the planets were aligned and where the cosmos were at that moment indicated that it was the best time to plant seeds into the ground of life … They wanted to get the words on their feet because it was closest to the earth," Amanda Owley told People.
Halsey is a huge Star Wars fan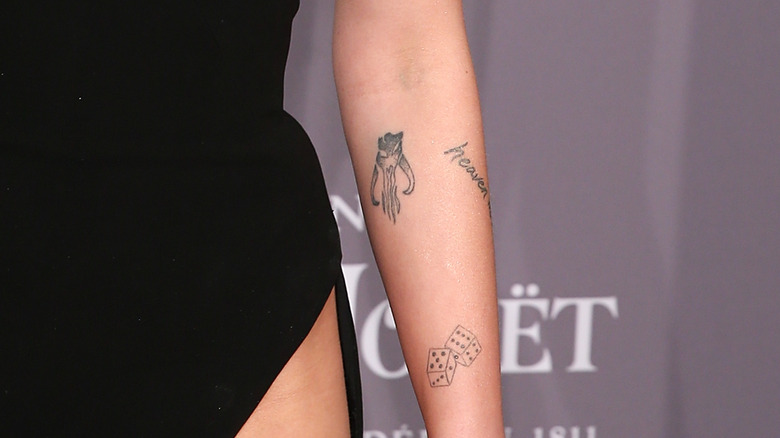 Many of Halsey's tattoos reference the movies they watch, albums they've created and things they believe in. Their left forearm features a nod to "Star Wars": "It's a Mandalorian emblem and it's a deep cut "Star Wars" reference. It's one of the cooler tattoos that I have because it's a Mythosaur skull and it's a Mandalorian emblem," (via iHeartRadio). They also have a tattoo in honor of the late rapper Juice Wrld and the phrase "I'm a loser baby" on the side of their neck, inspired by the song "Loser" by Beck (via Popsugar).
The musician pays homage to literature as well, with tattoos of a Shakespeare quote (from "Romeo and Juliet") and symbols of the book "Little Prince" on their thigh (via J-14). However, Halsey also admitted to Marie Claire that they don't really think about the tattoos they get. "I don't like to overthink these things…I never know ahead of time what I'm going to get," they said. The singer has at least 30 tattoos – a butterfly because "I just think they have a cool power" and a salad "because I need to eat more of it," (via Marie Claire). Halsey posts (and gets inked) regularly so check back here or their Instagram profile for a canvas of ink inspiration.
Source: Read Full Article