The former New Orleans Saints player's family alleges that the athlete passed away because of not receiving proper medical care as he died one day following his arrest.
AceShowbiz –Glenn Foster has passed away. The former New Orleans Saints player died one day after being taken into police custody in Pickens County. His exact cause of death is not yet known. He was 31 years old.
According to an official at the Pickens County, Alabama, Medical Examiner and Coroner's Office, the ex-NFL player died on Monday, December 6. The official further stated that they couldn't give further information regarding the cause of death as well as the location where he passed away as his case remains under investigation.
Glenn's father, Glenn Foster Sr., later alleged that the former defensive end died because he didn't receive the proper medical care as he experienced symptoms of bipolar disorder. "We want justice for our son. It's unfair. It's inhumane. It's just not right," he said in a statement to local news station WWL-TV on Tuesday. The athlete's mother, Sabrina Foster, added, "I can't get my son back, but we want whoever is responsible to pay for this."
"Since Friday night, my son, who needed medical treatment for his manic or bipolar episode, never received any treatment," Glenn's father said. "I don't know what happened with him physically while he was in the jail because they wouldn't let us see him."
Glenn's dad added, "All the good things that he did, it looks like the county sheriff is doing things to assassinate my son's character." He continued, "In addition to assassinating him because they never let him get the medical help that any human being deserves."
"My son, instead of being dead in a morgue, should have been in a mental facility where they could have treated his mental illness," the athlete's father elaborated further. "Now the fruit has fallen from the tree. Once it's on the ground you can't put it back. That's what they've done. They snatched the life of my son."
Many became aware of Glenn's death after a state lawmaker from Illinois, where he was born, posted a tribute on Twitter. "No words right now. Rest Powerfully, Little Brother," tweeted Kam Buckner, the representative of the Illinois State House's 26th District. "From Chicago to Champaign to New Orleans. You left your mark everywhere you went. Glenn Foster, we love you bruh."
Also mourning Glenn's passing was his former teammate, Terron Armstead. "I really can't find the words to properly express," Terron wrote via Twitter, before adding, "Rest In Peace Glenn Foster, you'll be missed bro!"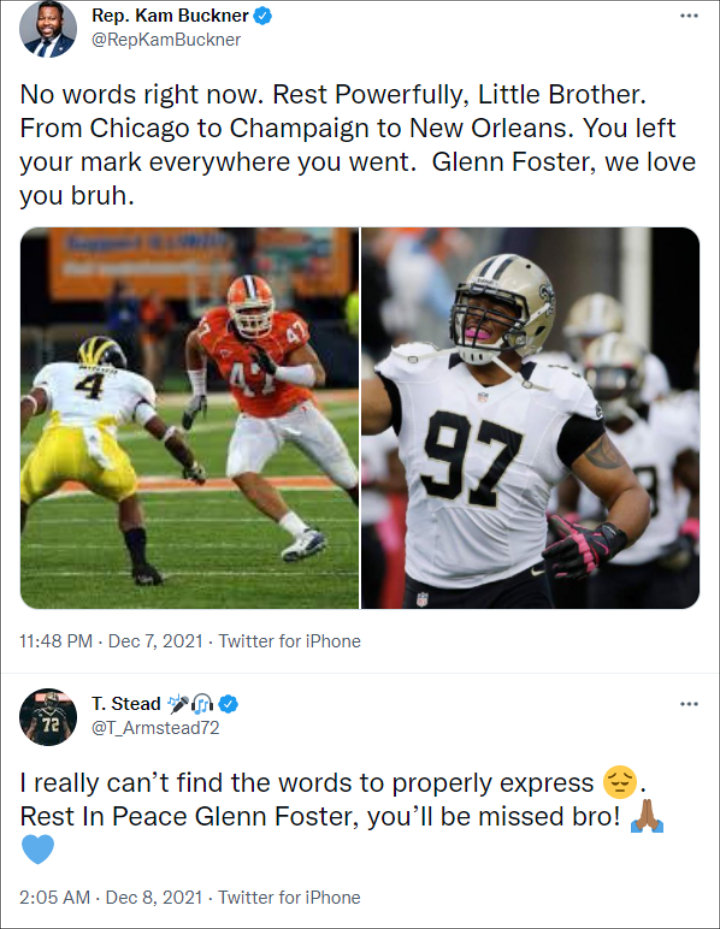 Kam Buckner and Terron Armstead mourned Glenn Foster's death via Twitter.
Pickens County jail records showed authorities arrested Glenn on Saturday. The athlete was taken to police custody on counts of reckless endangerment, resisting arrest and attempting to elude police. He was rebooked on Sunday on counts of simple assault and robbery.
Source: Read Full Article