While he hasn't made any official announcements yet, many believe that former President Donald Trump has been plotting his return to office from the moment he (unwillingly) left the White House. Yes, it's true that his life since leaving the presidency has been plagued with plenty of drama, but that hasn't stopped him from focusing on his political future. 
While speaking with Fox News's Sean Hannity back in June, Trump boasted that "if you look at the numbers, people are liking me more than ever before." And while he explained that he'll only decide whether or not to run for reelection in 2024 based on the outcome of the midterm elections, he claimed that he feels confident his support will only continue to grow as people keep "watching what is happening with our country […] watching no energy independence." He added, "Never has there been a scene like what is happening at the border, and the death that is being caused."
It sure seems that Trump is doing everything he can to set himself up with a strong foothold in the political arena. From recently sending a strong message to President Biden (in which he criticized all aspects of his administration) to regularly communicating with his supporters, including encouraging them to order an "Official Trump Card" to show their devotion, Trump is trying his best to remain top-of-mind. Now, he's shared a scathing Labor Day message that's keeping his rhetoric alive.
What's on Donald Trump's mind this Labor Day?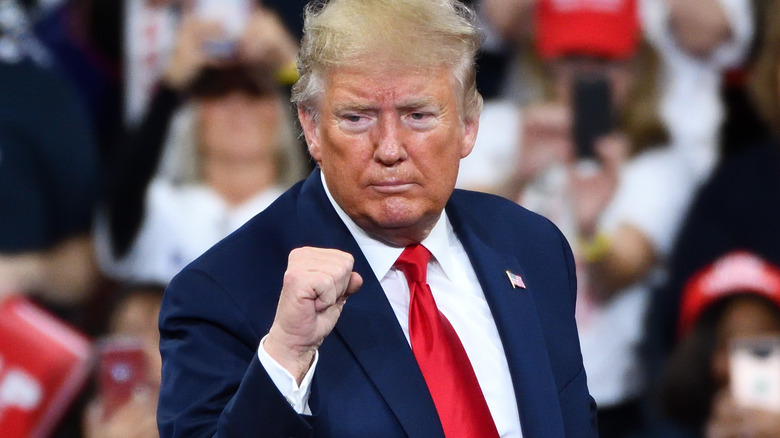 In January, former President Donald Trump was banned from posting to Facebook and Instagram "indefinitely," but that hasn't stopped him from communicating with his supporters. Yes, his attempt at running a blog was short-lived (he shuttered it just 29 days after launch, per The Washington Post), but he continues to make regular appearances on Fox News, post updates to his website, and send emails to members of his "Save America" Political Action Committee. It was the latter method that he used to share a three-word Labor Day message with his fans. Written all in caps and sent out on September 4, it simply read, "FIX 2020 FIRST!" 
While Trump didn't go into any details about what, exactly, should be fixed, the Daily Mail notes that it appears to be a nod to his ongoing, disproven claims that Joe Biden won the 2020 election unfairly. As the outlet points out, the statement is in keeping with Trump's December 2020 speech in which he proclaimed, "This election is about great voter fraud, fraud that has never been seen like this before."
And while Trump isn't allowed to share his thoughts on social media anymore, there are plenty of other accounts willing to help spread his message. Not long after the Labor Day email was sent out, the Right Side Broadcasting Network tweeted a screenshot of it, generating both support and criticism. "SadLoserSaysWhat?" wrote one opponent while another pleaded, "Please, please go away."
Source: Read Full Article