The 'Need to Know' songstress undergoes nearly five hours of transformation to create the jaw-dropping look called 'Doja's Inferno' for the Schiaparelli Haute Couture show.
AceShowbiz –Doja Cat has shown yet another bold style. Never ceasing to impress with her fashion, the 27-year-old singer turned heads with her all-red look when attending a Paris Fashion Week event on Monday, January 23.
The Grammy Award-winning actress was barely recognizable as she covered her body in red paint and over 30,000 blood-red Swarovski crystals for the Schiaparelli Haute Couture show. She amped up the effect by wearing a red strapless Schiaparelli Haute Couture dress with a beaded skirt, which she paired with knee-high boots. She also accessorized with a dramatic wrap and giant gem earrings in the same scarlet shade.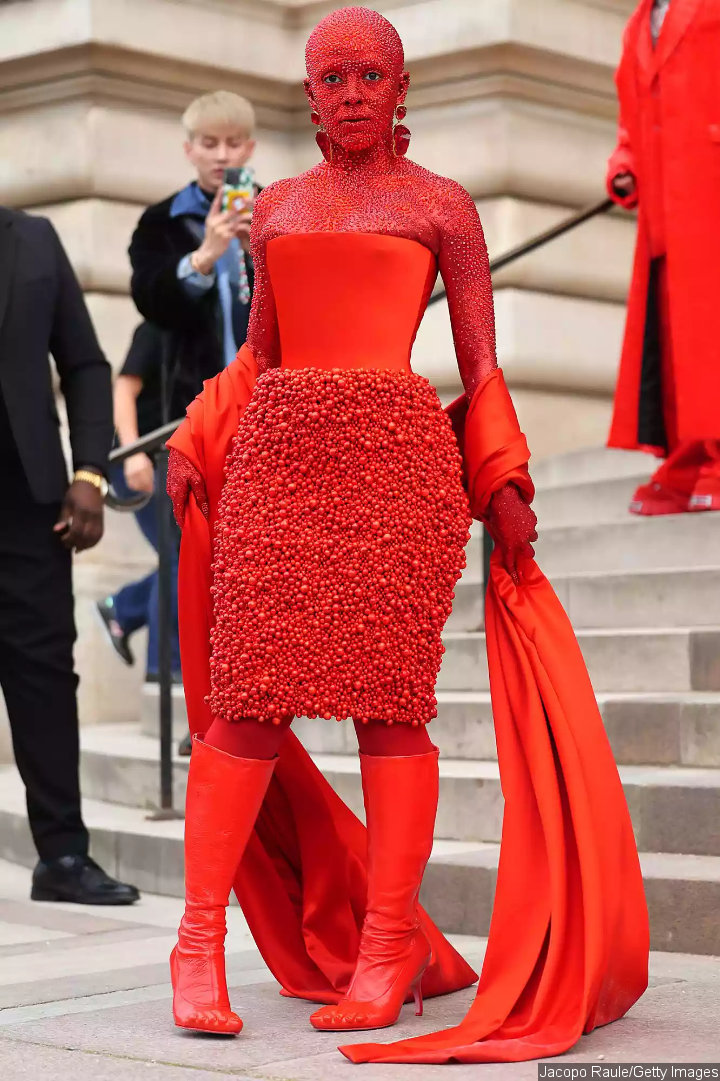 Doja Cat turned heads with her all-red look at Schiaparelli Haute Couture show.
Celebrity makeup artist Pat McGrath spent nearly five hours to create the look called "Doja's Inferno", which was partly inspired by the first part of Dante's "Inferno", according to a press release. The 14-th century epic poem also inspired this season's Schiaparelli designs.
In an Instagram post, Pat gushed about working with the "Kiss Me More" songstress to create the "magical" look. "Such a pleasure working with the gorgeous @DojaCat and the amazing @DanielRoseberry on the 'Doja's Inferno' look for @Schiaparelli's FW23 Haute Couture collection," he wrote.
He continued, "Doja's sublime patience during the 4 hours and 58 minutes it took to create the look with #TeamPatMcGrath, which was covered in over 30,000 hand-applied @swarovski Crystals, was inspiring. The final product was a magical, mesmerising masterpiece of sparkling brilliance. Xx."
Doja, however, wasn't the only standout at the fashion show. Kylie Jenner also made a jaw-dropping appearance as she wore a black gown affixed with a large, lifelike lion head, a likely nod to her Leo star sign.
The faux animal head was made from "hand-sculpted foam" as well as "wool and silk faux fur," and was "hand painted to look as life-like as possible, celebrating the glory of the natural world," Schiaparelli explained on Instagram.
Still, it didn't stop the backlash from social media users, who accused the reality TV star of promoting hunting. PETA, meanwhile, has defended the makeup mogul, stating, "Kylie, [Naomi Campbell] and [Irina Shayk]'s looks celebrate the beauty of wild animals and may be a statement against trophy hunting, in which lions and wolves are torn apart to satisfy human egotism. We encourage everyone to stick with 100 per cent cruelty-free designs that showcase human ingenuity and prevent animal suffering."
You can share this post!
Source: Read Full Article