A few weeks earlier, the New York-born hip-hop star faced intense criticism after she reminded her fans and followers about the recession on her social media platform.
AceShowbiz –Cardi B is once again reminding her fans about the recession. The "Bodak Yellow" raptress turned to her social media platform to tell the world about the increasing grocery prices after she sparked controversy with her recession comments.
On Tuesday, January 3, the 30-year-old hip-hop star fumed on Twitter, "Naaaaaa grocery shopping prices are ridiculous right now [face with flat, closed eyes and mouth emoji] You might as well eat outside !!" In a following tweet, she continued, "B***h why lettuce cost 6 dollars where I live at ?" adding a video of Remy Ma saying, "This is where I'm starting to get aggravated."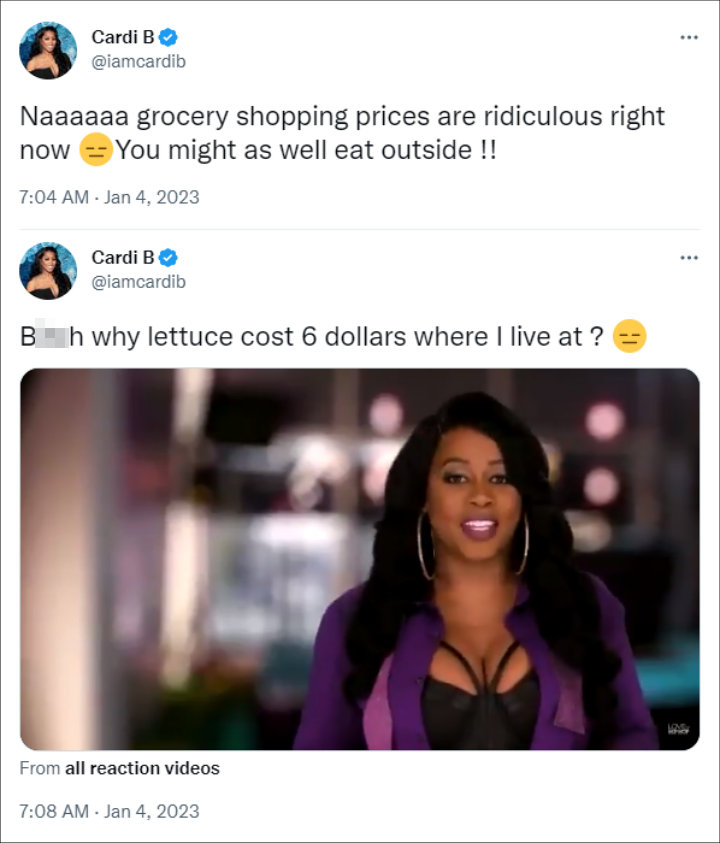 Cardi B criticized the increasing grocery prices.
However, some Twitter users quickly slammed Cardi for criticizing the high grocery prices. One person asked, "Aren't you a millionaire?" Another replied to her tweet, "Girl you rich as hell cut the nonsense you not one of us no more." Someone else chimed in, "Rich people saying this is just wild to me lol."
Cardi has already reminded her fans about the recession since last month. At the time, she wrote, "we [are] going through a recession…..Merry Christmas [christmas tree emoji]." Many found her post insensitive as she recently enjoyed a tropical trip to Jamaica with her husband Offset to celebrate his 31st birthday.
Cardi didn't waste her time defending herself. "I'm worth more then that and guess what ? If I don't save ,work and budget I could lose it too!" she wrote. She then explained, "What makes you think that no matter how much money you got you can't lose it all if you don't manage your money correctly.I too have bills,responsibilities and people I have to help."
Not stopping there, Cardi uploaded a throwback photo of her twerking with a bunch of money behind her, seemingly reminding herself that she started from the bottom before she became successful. "THROWBACK," she simply captioned the picture.
You can share this post!
Source: Read Full Article