On this blessed day, Beyoncé and Netflix gave us all the sustenance we'd ever need to last us until her next iconic performance. (Let's pray that's coming sooner than we think and doesn't involve Ed Sheeran in a T-Shirt.) First, she gave us the Coachella Homecoming documentary she teased last week, then she dropped a surprise live album of the entire show, and now everyone is wondering what that bonus track "Before I Let Go" is all about.
Let's Talk About the Album
Since the internet is completely exhausted because everyone stayed up into the wee hours of the morning to watch Beyoncé's documentary, Beyoncé's live album couldn't have come at a better time. Basically, Queen Bey took her entire Coachella performance and added it to all your favorite streaming services because she's a saint like that. It has hits like "Formation," three whole uninterrupted minutes of her drumline doing the damn thing and performing "Ego," and a bonus track called "Before I Let Go."
You've Probably Heard This Song Before
Now, if you've never been forced to listen to your parents ask you, "What you know about this song?" know this is one of those types of bops. Originally written and performed by Maze and Frankie Beverly in '81, this song basically always makes it on the playlist of every family reunion and cookout. So when Beyoncé included it on her album, everyone's ears perked up more than they already were.
Here's What It the Lyrics Mean
Since it was released nearly forty years ago, the groovy song's become one that will make you feel like hitting the dance floor, but it's actually been described as "an ode to a love lost." Frankie once said the song written to be about a woman that he was dating and another, who he had just broken up with. He explained:
And Here's Why Beyoncé's Singing It
Of course, the original meaning of the song isn't really related to Beyoncé's love life or her relationship with Jay-Z, but there are some lyrics that could resonate with her. For instance, "We've hurted each other/ Boy, it's a shame" could be referring to that whole cheating drama she talked about in that little body of work called Lemonade.
She also sings, "You know I thank God sun rises and shines on you/ You know there's nothin', nothin', nothin' I would not do," which feels like she's clearly talking about how much she loves Jay.
Though, it's likely she just feels connected to the song and wanted to include one that that's been engrained in Black America for so many years—as she did when she performed the Black national anthem "Lift Every Voice and Sing" at the festival. Plus, the song has such a triumphant tone that it was only natural she'd end the album on that note.
Wait, There Are More Beyoncé "Before I Let Go" Covers!?
According to Variety, this isn't the first time Beyoncé's covered this song, BTW. Back when she was with Destiny's Child, they all recorded a song called "Before I Let You Go," but it was never officially released to the public. Womp, womp. Sadly, we may never get to hear what Kelly Rowland and Michelle Williams have to contribute to this song, but this solo cover is plenty to be excited about. Now go add it to every single one of your playlists!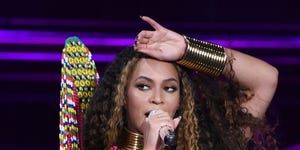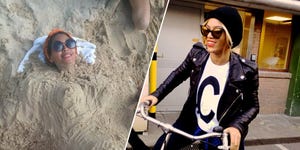 Source: Read Full Article