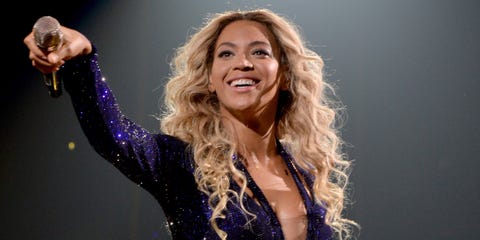 If you've been feeling like there's not nearly enough Beyoncé news in your life of late, then this is for you. Earlier this week, ahead of her performance at New Jersey's Metlife Stadium for the On The Run II tour, Beyoncé took some time out backstage with one of her besties, and the resulting video is priceless.
Beyoncé's good friend Mally Roncal shared the most precious video of the singer before she performed, and the internet is understandably enamored with the footage. In the sweet clip, it quickly becomes clear that Beyoncé thinks that Roncal is taking a photo of them both, so she's been holding the same gorgeous pose on purpose.
Because she's clearly the best friend in the world, Roncal asks Beyoncé in the video, "Who's the most beautiful woman on the planet?" Beyoncé then realizes that she's being caught on camera and asks, "Wait… this is a video? Sorry! I'm over here making fish lips."
@BEYONCE I love you. There are no words to describe how priceless our friendship is to me. I met this Other Worldly Earth Angel when she was 19 years old and now, two marriages, 6 kids, countless makeup sessions, photo/video shoots, award ceremonies and 16 years between us, every time is see you it's like yesterday! Thank you for your loving, kind, silly, inspiring spirit. I love you! And shout out to my beautiful LOVES @kaleb_steele @mstinalawson @yvettenoelschure for sharing your incredible beauty with me last night too!! I love you with all my heart! ???#beyonce #bey #beyhive #mallyvation #mallyminute #mallybeauty #mallyroncal #beyoncéknowles @mallyroncal
A post shared by Mally Roncal (@mallyroncal) on
Obviously, Beyoncé doesn't have much time because she's, y'know, backstage at the Metlife Stadium about to perform and everything, so Roncal signs off the video saying, "She gotta work, bye!" But as usual, the singer's latest appearance does not disappoint, and fans will love the candid nature of Roncal's Beyoncé video.
And that's not all. Roncal even included the most adorable caption with the video saying, "@BEYONCE I love you. There are no words to describe how priceless our friendship is to me. I met this Other Worldly Earth Angel when she was 19 years old and now, two marriages, 6 kids, countless makeup sessions, photo/video shoots, award ceremonies and 16 years between us, every time is see you it's like yesterday! Thank you for your loving, kind, silly, inspiring spirit. I love you!"
Source: Read Full Article