The TikTok star is all smiles while joining the Poosh founder and the 'Transformers' actress at Machine Gun Kelly and Travis Barker's surprise rooftop concert.
AceShowbiz –Addison Rae is back at it for another sexy look. While hanging out with Megan Fox and her BFF Kourtney Kardashian, the TikTok star sported a black fishnet crop top which offered an eyeful of her underboob.
Addison was spotted laughing with Megan and Kourtney while they were attending Machine Gun Kelly and Travis Barker's surprise rooftop concert in Venice Beach, California. For the Saturday, June 19 outing, the 20-year-old beauty paired her sexy crop top with black cargo pants and purple Converse sneakers.
As for the "Transformers" actress, she opted to go with a long trench coat, crop top and jeans during the event. The "Keeping Up with the Kardashians" star, on the other hand, looked comfortable in a black and red striped sweater paired with a black mini skirt.
Many on Twitter have since gushed over Addison's friendship with Megan and Kourtney, calling it "iconic." One user in particular raved, "ADDISON RAE, KOURTNEY KARDASHIAN, AND MEGAN FOX IS AN ICONIC TRIO IF YOU ASK ME." Another echoed, "addison rae, kourtney kardashian and megan fox! can't think of a more iconic trio."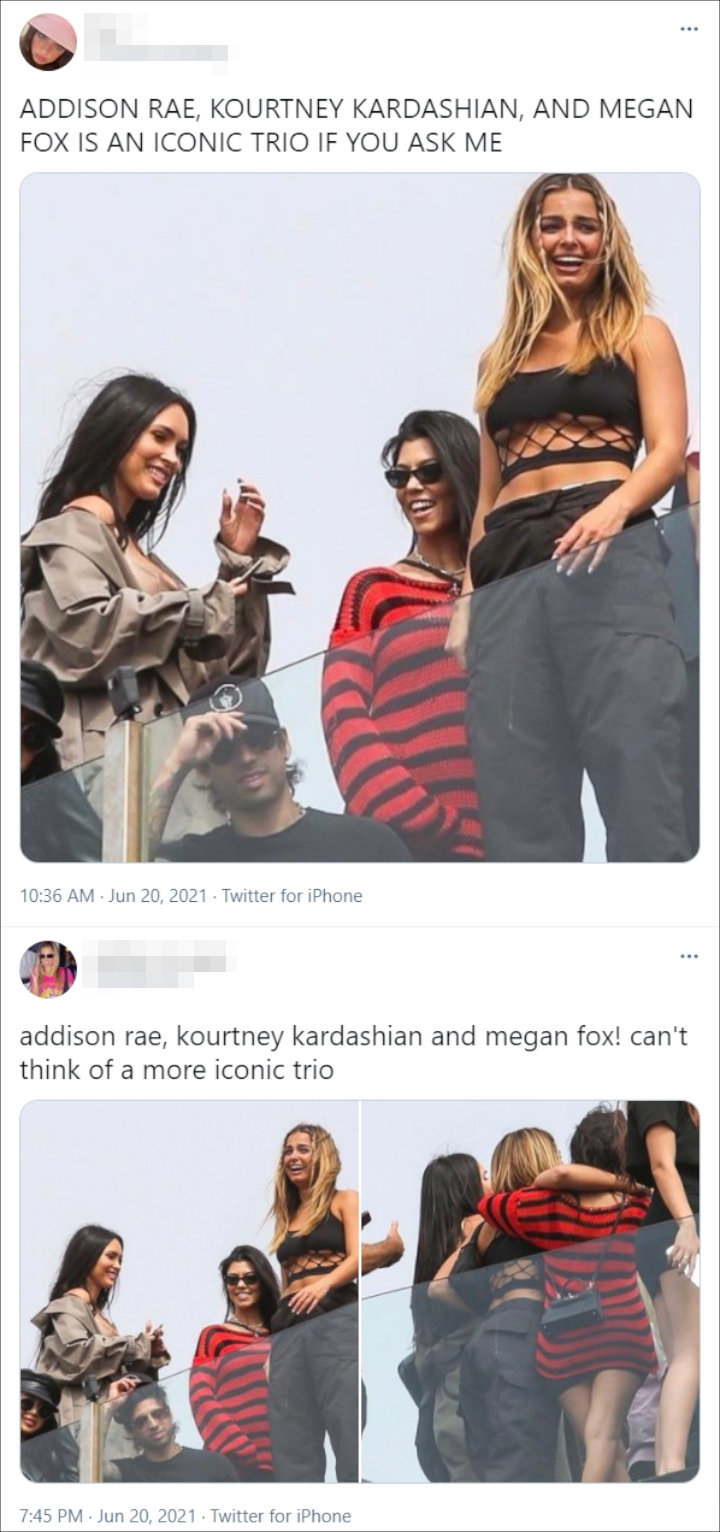 Fans gushed over Addison Rae's friendship with Megan Fox and Kourtney Kardashian.
Addison and Kourtney have hung several times. About how they became friends, the "He's All That" actress divulged that it was YouTuber David Dobrik who first made the introduction as a treat for the Poosh founder's eldest child, Mason Disick.
"I met Kourtney through a friend, through David," she said during an appearance on the "The Tom Ward Show" in June 2020. "We surprised Mason because Mason liked my videos on TikTok."
"I kind of just stuck around and we got really close," the ex-girlfriend of Bryce Hall went on sharing. "We started working out together. We did a video on her YouTube of us doing a butt workout and stuff, so that was fun."
In the April episode of "KUWTK", Addison was grilled by Kim Kardashian and Khloe Kardashian about her relationship with Kourtney. "Who's her favorite? What the f**k do you do to Kourtney to make her so happy?" Khloe asked, before Kim chimed in, "Honestly at the beginning we were like wait are they… hooking up? If it was like that kind of relationship."
Scott Disick then joined the chat by saying, "That was the elephant in the room." Setting the record straight, Addison stressed, "No we're not… It's just very weird that that's what the impression was."
Source: Read Full Article